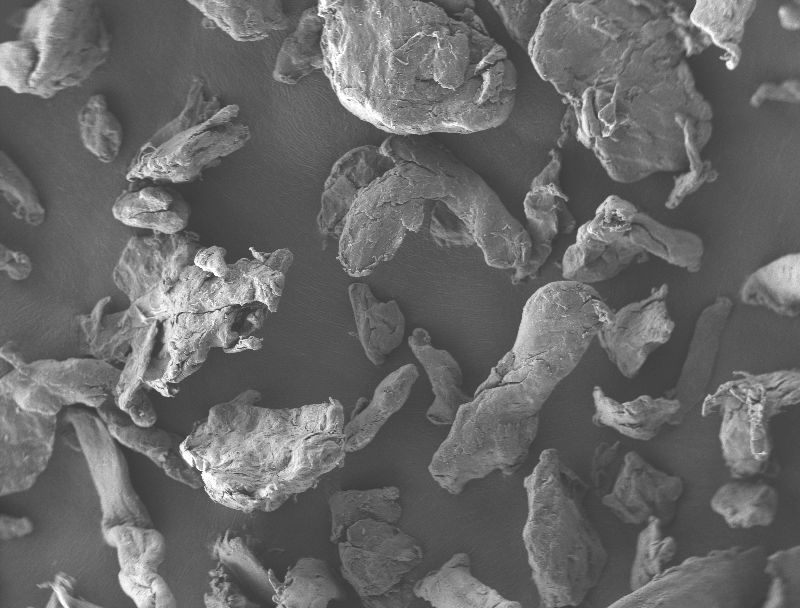 Plastic particles in care products are a problem for the environment: They get into the sea via wastewater and thus into the food chain. In a research project, we scientists of the Fraunhofer Institute for Microstructure of Materials and Systems IMWS together with partners from industry would like to replace such microplastic particles in toothpastes and body peeling products with biologically degradable substances. The project within the scope of the BioEconomy Leading Edge Cluster could not only help the environment, but also open up new possible uses for renewable raw materials.
Many cosmetic products such as body peeling treatments or toothpaste contain tiny plastic particles, so-called microplastic particles. As »gentle abrasives« they ensure that dead skin cells and to stimulate blood supply to the skin or are used as stabilizers – they can account for up to 90 percent of a product.
Microplastic particles are practically non-biodegradable and with a size less than 5 millimetres they are generally too small to be removed effectively. The particles therefore get into the environment. In the sea they endanger the organisms that live there. Due to these consequences, the use of microplastic particles in cosmetic particles is already banned in several US states and a ban is also being discussed at EU level. Numerous manufacturers have therefore already announced that they will reduce their use of microplastic particles and are looking for substitute substances.
This is where the KosLigCel project comes in, which is being coordinated by the Fraunhofer IMWS. »Today polyethylene is mostly used for microplastic particles in cosmetic products. We want to use particles made from a natural product instead: Cellulose, which is made from beechwood scrap and is biologically degradable. If we succeed, we could contribute to reducing the environmental impact due to microplastic particles«, said project manager Dr. Vanessa Sternitzke. She pointed out the size of the problem: According to a study of the United Nations Environment Programme, in 2012, in the EU alone, 4300 tonnes of microplastic particles were used in care products.
In the KosLigCel project, which will run for two years and belongs to the BioEconomy Leading Edge Cluster of the Federal Ministry of Education and Research, among other things, a body peeling product and a toothpaste are to be developed. The project partners are CFF GmbH, a cellulose processor in Gehren (Thuringia), which is provides cellulose and lignin particles, and Skinomics GmbH in Halle, which is primarily responsible for the dermatological testing of the new products.
The particular challenge lies in finding precisely the right particle size, shape, hardness and surface texture, which ensure the required properties and at the same time are hypoallergenic. To this end the cellulose from beech wood is to be especially modified and analysed down to microstructure level. The use of cellulose from other sources, for example, residual materials from oat, wheat and corn production. The researchers also want to try out the use modified sulphur-free Organosolv lignin particles in cosmetic products for the first time.
Individual tests have already been performed, to replace microplastics in cosmetic products with other materials such as wax, salt or olive stones. Yet until now, such materials have never been evaluated in material science terms. The KosLigCel project partners want to do this for the first time. »The scientific challenges are still large, to find a replacement for polyethylene, which has an equally good effect, but unlike polyethylene is biodegradable and can be produced as cost-effectively as possible. Using the greatest precision, we want to find out which criteria are decisive for the required properties. When we know that, we can reliably evaluate which materials are particularly well suited for replacing microplastic materials«, is how Sternitzke explains the approach.
Ideally, the use of cellulose could also open up other fields of use. Unlike polyethylene the cellulose also absorbs oil and water and could contribute to improving the long-term effect of moisture creams. Cellulose are also a potential candidate for use as a filler in aluminium-free deodorants.