The designer solar façade SOLAR_shell, a project by the Architekturinstitut Leipzig (a:iL) at Leipzig University of Applied Sciences (HTWK Leipzig), has been honored as the best project in the 'System City' category at the Energy Awards. The energy-efficient façade, which the Fraunhofer Center for Silicon Photovoltaics CSP helped create, won against 45 other innovative products, services, and business models. The Energy Awards are presented by the business newspaper Handelsblatt to highlight progressive developments in the energy sector.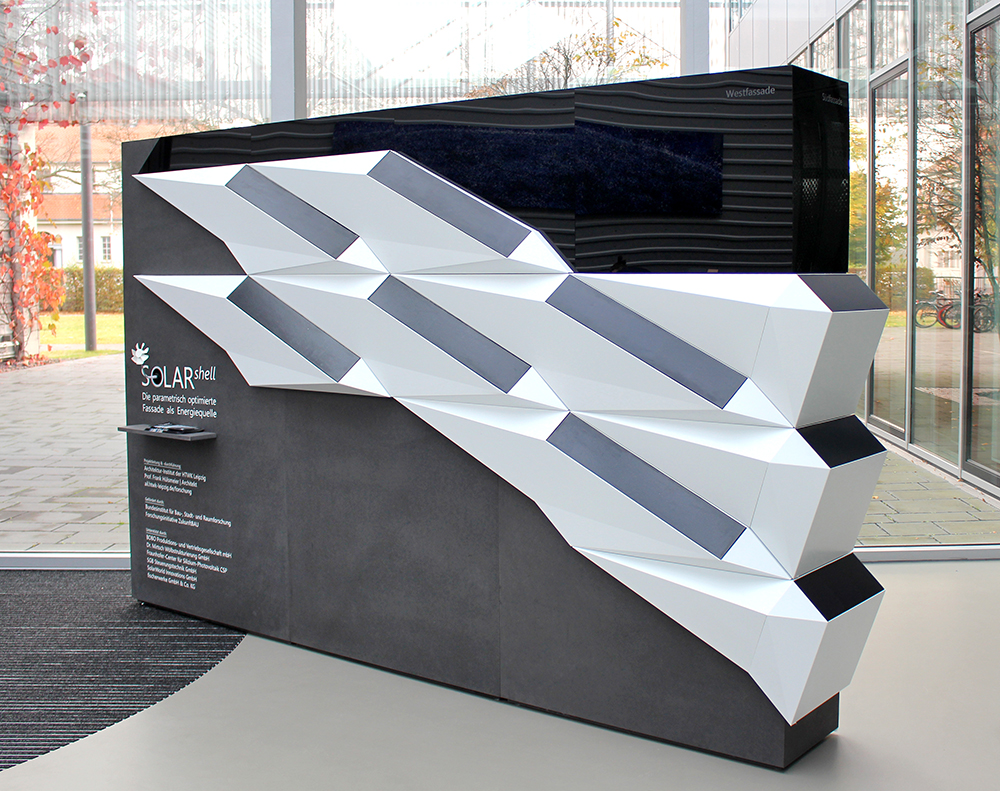 SOLAR_shell is a parametrically optimized façade that not only meets aesthetic requirements but also serves as an energy source. The solar panels in the lamella-like façade are all aligned in such a way that they are exposed to as much sunlight as possible on the respective building over the course of the year. Thanks to its unusual design, it generates up to 50 percent more energy than conventional solar panels – and looks good, too.
"A particular focus was placed on the topics of digitalization and sustainability. It is especially important for us that the award also recognizes the importance of successful design-based integration of new developments into our living environment," says Prof. Frank Hülsmeier from a:iL, under whose direction the concept was developed.
The Fraunhofer CSP in Halle (Saale) produced the required special PV modules and presented the demonstrator to the public for the first time at the international photovoltaic conference PV Days 2017. "I am delighted about the award and would especially like to congratulate Prof. Hülsmeier and the team at HTWK Leipzig. This is also a great success for us, as it illustrates the potential of building-integrated photovoltaics, for which we continue to implement new developments," says Sebastian Schindler, who supervised the project at the Fraunhofer CSP.