Basalt fiber-reinforced plastics for automotive applications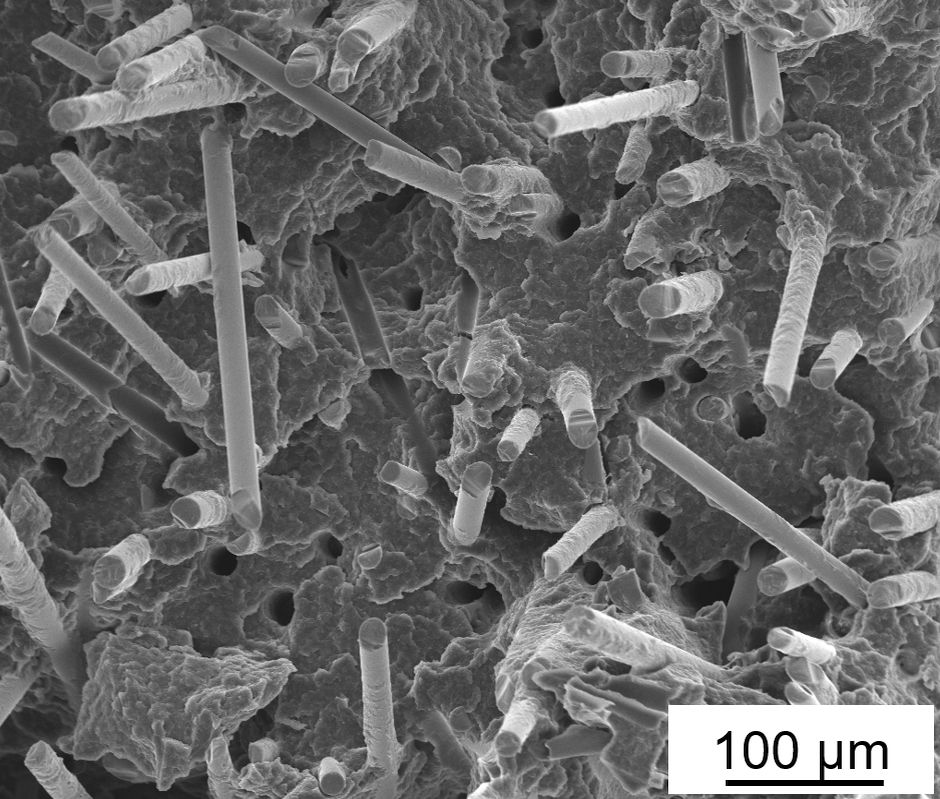 Basalt is not only a great material for use in road construction or building facades. The natural rock can also be used as a reinforcing fiber in thermoplastic composite materials. This is the result of a joint research project between the Fraunhofer Institute for Microstructure of Materials and Systems IMWS and the German basalt fiber DBF GmbH. The novel materials could be used as lightweight construction materials in the automotive industry, for example.
"Basalt has high thermal resistance, good mechanical properties and absorbs little water. We wanted to investigate whether it could be used as a material for thermoplastic composites in addition to existing market applications such as reinforcing solutions in concrete. The results show that basalt fibers are easy to process and can be a real alternative to glass fibers," says Ivonne Jahn, who is the Group Leader for thermoplastic-based semi-finished fiber composite products at the Fraunhofer IMWS and the Project Head.
Arguments for the use of basalt include a favorable life cycle assessment, very good characteristic profiles comparable to glass fiber and the cost advantages in comparison to carbon fiber. The proof of suitability for use in thermoplastic composites (TPC) paves the way especially for applications in the automotive industry, where these semi-finished products play a particularly important role.
During the two and a half years of the research project, the influence of fiber geometry, fiber content and fiber pretreatment on the bonding of the different basalt fiber patterns to the thermoplastic matrix systems (polypropylene and polyamide) and thus on the mechanical properties was investigated using short fiber reinforced thermoplastic composites. Fiber-matrix interface and matrix morphology were analyzed with scanning electron microscopy. The question of suitable modifiers for the formulation, optimal settings for the compounding process as well as improvement potentials for the fiber handling during the production and further processing of the basalt fibers, for example a constant fiber feed into the extruder, were also investigated.
Based on these findings on material and process investigations of short fiber reinforced basalt fiber compounds, continuous fiber reinforced basalt fiber TPC semi-finished products were produced or, to be more precise: UD tapes. These thermoplastic films are unidirectionally reinforced with continuous fibers and are then processed into laminates. The fiber reinforcement can be precisely adapted to the load distribution in the later component. "We produced the continuous fiber-reinforced tapes using the direct melt impregnation process and combined them with short or long fiber-reinforced material in a hybrid injection molding process. We were again able to identify numerous starting points for optimizing the property profile, such as the spreading behavior and fiber wetting behavior with polymer. With the resulting demonstrator, we have proven that hybrid injection molding can be efficiently designed using basalt reinforcing fibers under industrial conditions. The achieved properties are comparable or better than those obtained using glass fibers. This means that UD tapes made of basalt fibers and polypropylene have great potential as innovative semi-finished products for applications in thermoplastic-based lightweight construction," says Jahn. These findings could thus open up new fields of application for basalt fiber thermoplastic composites, for which follow-up projects are already underway at the Fraunhofer IMWS.